Color & Trim Design - Appealing all the senses
Research, design, and development of all interior and exterior colors and materials used on a vehicle is what our color & trim designers offer. Their challenge is to combine materials and colors to a harmonic experience appealing to all senses. Based on a broad knowledge about paints and all kinds of material, such as fabrics, leather, plastics, carpets, wood trim, and so on, our designers turn color, contrast, texture, and pattern into a unique environment.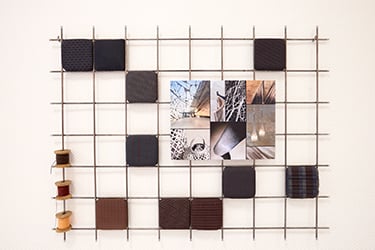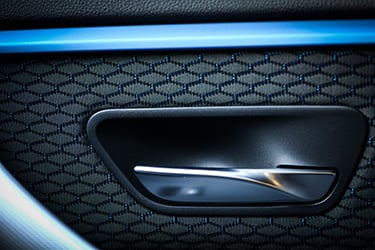 Inspiration is drawn from other design disciplines such as industrial design, fashion, home furnishing, architecture and product design. Identifying future trends is one of the most important parts of this work. With mood boards we set the ideas into a holistic frame from which we further develop concepts with our clients. Models help refining and testing the ideas to practical use. On all stages of development and production we provide car clinics for validation purposes. This tool for market research selects test persons to survey the image and acceptance of new car or interior concepts in terms of design, material and quality perception.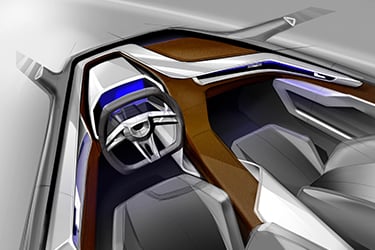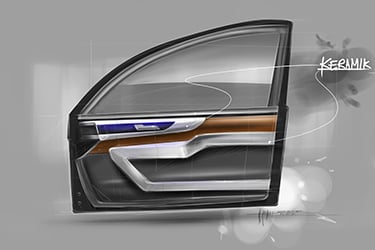 Ich beantworte gerne Ihre Fragen
CARMEN PELTERS
Tel. +49 (0) 2161 6865-159
Tel. Tel. +49 (0) 2161 6865-159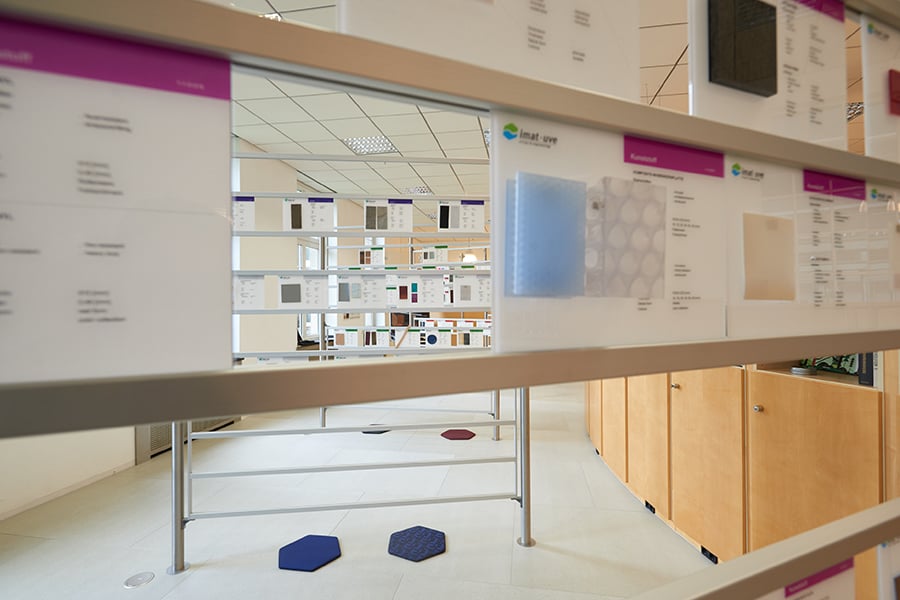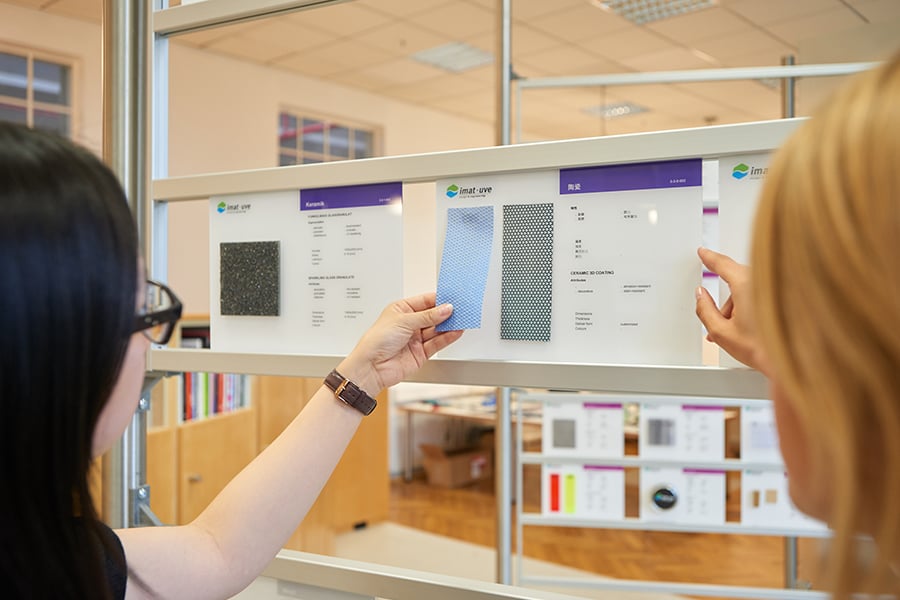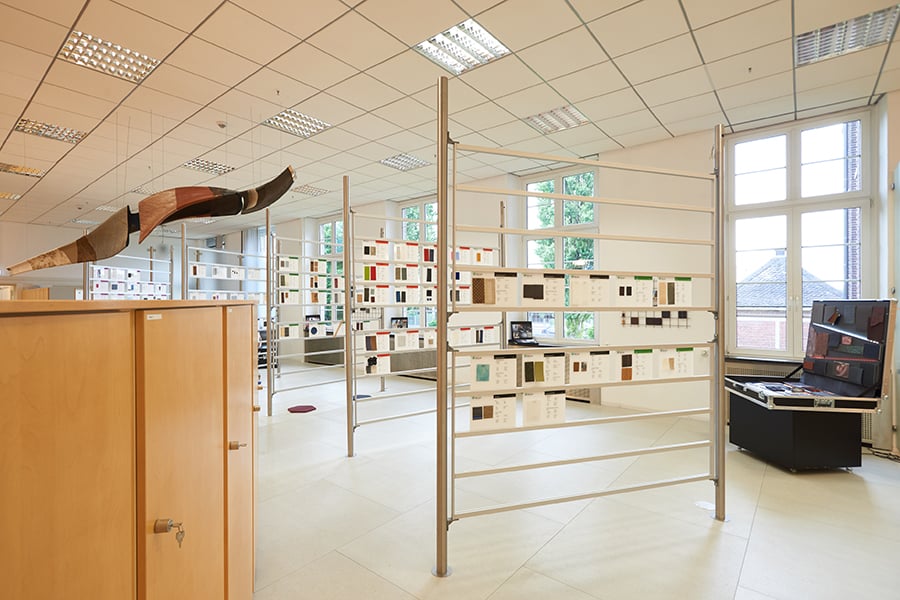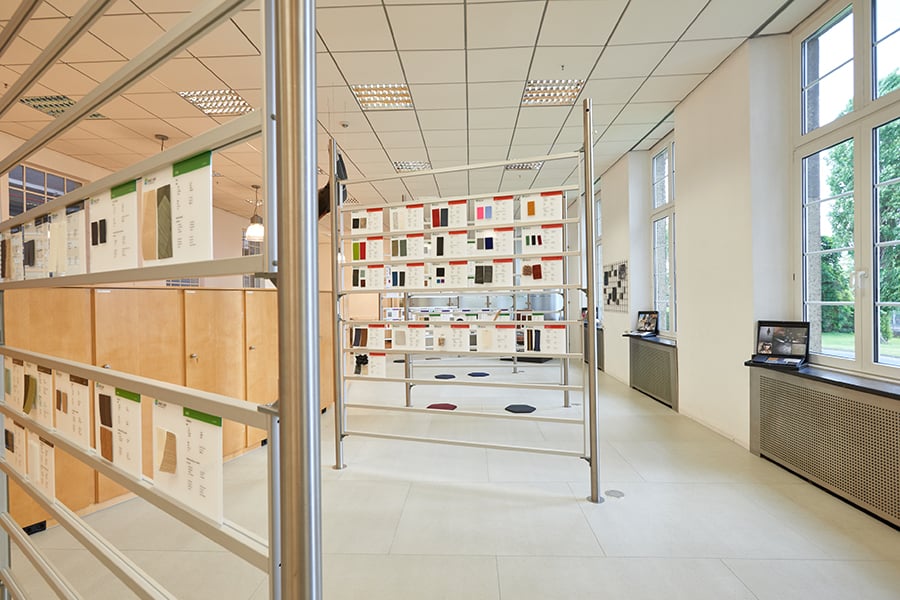 Besuchen Sie unseren Showroom im Monforts Quartier Mönchengladbach!
Hier stellen wir innovative Werkstoffe in einer besonderen Atmosphäre aus. Außerdem finden hier Veranstaltungen, wie Kreativworkshops, statt. Wenn Sie weitere Informationen dazu haben möchten, sprechen Sie uns an.
Sind Sie Materialhersteller und interessiert an Kooperationen? Dann erläutern wir Ihnen gerne unsere verschiedenen Modelle zur Aufnahme Ihres Werkstoffs in die Materialbibliothek.
Unsere Dienstleistungen entlang der Wertschöpfungskette
Materialpräsentation
Als Entwicklungsdienstleister fungiert imat-uve als Schnittstelle zwischen Materiallieferanten und -verarbeitern. Unser Focus liegt dabei auf der Unterstützung von Automobilherstellern und Lieferanten, um innovative Materialien für das zukünftige Fahrzeuginterieur anzupassen. In unseren Ausstellungsräumen in Deutschland, China und den USA stellen wir Materialien aus verschiedenen Bereichen aus. Die Originalmuster können in der Materialbibliothek auf Produkttafeln mit der Beschreibung der wichtigsten Eigenschaften ausgestellt werden. Darüber hinaus digitalisieren wir die Materialien in die IMAT-Materialdatenbank und stellen die Informationen OEM- und Tier1-Lieferanten zur Verfügung.
Material Testing
Wir prüfen Ihr Material für die Automobilindustrie. In unseren zertifizierten Laboren testen wir nach den wichtigsten Standards der Branche. Beispielsweise führen wir Emissionsprüfungen (VDA 278, VDA 270, DIN 75201), Brandversuche oder den Martindale-Test (DIN EN ISO 12947-2) durch.
Scanning
Durch die Digitalisierung der Originalmaterialproben mit modernster Scannertechnologie können die Materialtexturen für die Entwicklung in Echtzeit-VR-Umgebungen sowie für fotorealistische Renderings zu Marketingzwecken eingesetzt werden. Dies spart Zeit und Geld, da verschiedene Prototypen nicht mehr erstellt oder Fotoshootings durchgeführt werden müssen. Das Material kann auf Standard-3D-Modellen von Auto-Komponenten simuliert oder auf ein proprietäres CAD-Produktmodell angewendet werden. Alle Texturen, die für eine realistische Darstellung des Materials benötigt werden, werden über einen sicheren Download oder eine externes Speichermedium übertragen.
Workshops
imat-uve bietet exklusive Workshops im Rahmen des imat think space an. Ziel ist es, ein Konzept zu einer bestimmten Fragestellung eines OEM oder Tier-1-Zulieferers zu entwickeln und mit Hilfe verschiedener Methoden, Materialien, Bilder, Farben und Accessoires einen Lösungsansatz zu erarbeiten. Die Ergebnisse des Workshops können zum Beispiel in einem selbst entworfenen Moodboard präsentiert werden. imat think space Workshops finden in einem außergewöhnlichen Design Loft auf dem Gelände des historischen "Monforts Quartier" statt. Die kreative Atmosphäre sorgt für freie Gedanken und Anregungen für konstruktive Arbeit.
I will gladly answer any questions

CARMEN PELTERS
Phone +49 (0) 2161 6865-159
DO YOU HAVE FURTHER QUESTIONS?