Products
high precision
hook pad
In the context of the optimization of the Martindale specimen holder, imat-uve has also developed a "high precision hook pad" made of injection-molded plastic, which will replace the Velcro tape at the Martindale in the future.
This development ensures that the results of the Velcro test are reproducible. The comparability of the results can only be achieved with the hook pad. The hook pad has a position anchoring that holds in a notch inside the Martindale specimen holder. This ensures that the pad is always inserted in the same orientation. The bulge height of the specimen can be measured with a special equipment. The necessary tours increase to 600-800, instead of the original 50, to get a comparable damage. These test results were obtained on automotive upholstery fabrics (fabrics and knitted fabrics).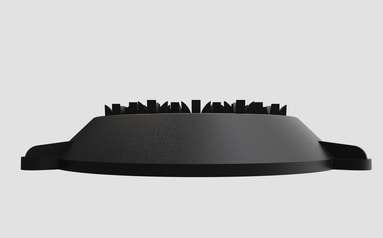 A pad is used for one test run and then disposed. This achieves always the same quality of the pads. The "high precision hook pads" are available in individually welded packaging at imat-uve.
For larger stocks, imat-uve also offers a rotating holder that can hold a supply of several hundred pads. The pads are removed very conveniently via a dispenser system. The Textile Project Group of the VDA has reached agreement with imat-uve on the development of the "high precision hook pad", so that integration into VDA standard 230-210 is also being sought for this.
Ich beantworte gerne Ihre Fragen
CARMEN PELTERS
Tel. +49 (0) 2161 6865-159
Tel. Tel. +49 (0) 2161 6865-159
I will gladly answer any questions
CHRISTOPH ADAMETZ
Tel. +49 (0) 2161 6865-802
DO YOU HAVE FURTHER QUESTIONS?