Driven by the trends "autonomous driving" and "lightweight/electro mobility" the interior gets even more into the focus of the car makers. Firstly, it is about innovative material that has to withstand high demands, such as Ingress/Egress, and will meet optimization efforts in terms of production costs and the weight. On the other hand "well-being" and "the sensory experience" in the vehicle becomes a core target. Here, the developers and test engineers at imat-uve support you with extensive experience in the field of seats and interior components.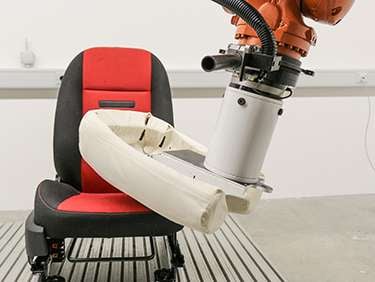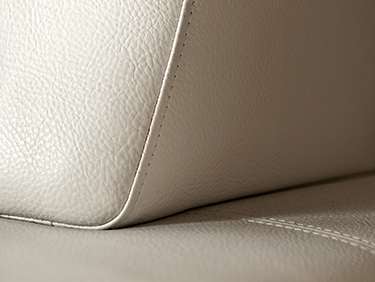 For further details, please see service specifications.
Cockpit/ Paneling Components
Functionality, safety, quality, ergonomics, life span and producibility! In order to fulfil these requirements for instrument panel, center console, glove compartment as well as air ducts and vents, our employees from design engineering, simulation and testing coordinate from the onset. In the process, the developers of our i-motion competency team continually find new material and surface geometric which permanently occupy our development engineers under the aspect of technical operational capability as material for visible surfaces.

Resistance to mechanical influences and form, color and structural consistency to critical weather and UV influences are not all that is involved in the context of application development of surface materials. It is rather also about complex media resistance, which is often subject to extremely short-term fads, such as the problem of (sunscreen) lotion resistance of lacquered surfaces.

However, special attention is also placed on the optimal use of the usually limited available construction space. Together with the manufacturer and supplier, we plan the interaction of components such as cockpit cross member, air-conditioning housing, pitman arm, airbag and the integration of electronics into the assembly as well as their easy repair and functionality early on.
Module and component testing
imat-uve has established itself as a competent partner in matters of component testing as well as module and component safeguarding. All international motor vehicle manufacturers and renowned system-suppliers on tier 1 and tier 2 level rely on our qualified support in their tests and the compilation and processing of project, cost and time schedules as well as the handling of components.

We process interior parts and modules (seats, cockpits, instrument panels, door panels, decor trim, carpet systems and headliners, heat shields) as well as body component groups, structure components, attachments as well as electronics components. However, we also cover fuel systems, Li-ions batteries and solar panels. These include life span testing under artificial climate such as climate tests, climate change tests, sun simulations and corrosion tests, but we also focus our checks on the stress under outdoor exposure.

We also conduct safety tests such as airbag trials and burn tests. Our customers and our own development engineers focus on fuel experiments and media resistance, sunscreen resistance as well as soiling and detergent resistance. Our competence in the emission, fogging and component odor sectors is much appreciated by our customers and rounds off our range of offers.

Continuous function tests for moving components and tests in boarding and exiting the vehicle, together with seat climate comfort tests, are further aspects of component testing as well as module and component safeguarding.
Material testing
The test spectrum at imat-uve comprises more than 2,500 test methods. These include mechanical consistencies, mechanical surface consistencies, tribological behavior, acoustical behavior and noise analysis. We also conduct tests regarding media resistance and corrosion, emission, odor measurements and fogging regulations. Our portfolio is rounded off by burn tests, environmental simulations, climate tests and hot-light ageing as well as outdoor exposure.

We take on the testing procedures of complete DBL and TL specifications and delivery regulations according to the requirements of most internationally renowned motor vehicle manufacturers. We test materials (trim, tuft, airbag, safety belts), skins (leather, vinyl, foils), lacquered surfaces, elastomers and foams, plastics and fiber composite materials (carbon fiber, fiber glass, CFK), wood and ceramics!
Seat
Comfortable seating is a major component for the physical well-being of passengers in a moving vehicle. The main issue is to preserve durability and ergonomics throughout the entire life span.

With the aid of the power/momentum-controlled OCCUBOT robot system by KUKA, imat-uve conducts virtual test runs to optimize the seating comfort and simulates the seating characteristics throughout the entire scheduled life span with various tests: permanent ingress/egress, scouring and wear-and-tear tests for seat upholstery, backrest, side bolsters and upper material. This includes the automatic path configuration to the deformation of the seating upholstery in order to keep the applied level of force constant.

This way, the stress to the contour of the upholstery can be re-enacted more realistic than with conventional methods based on pneumatic cylinders. As well as complying with statutory requirements concerning structural durability and bracing, the seating comfort is the major objective of our seat tests.[nbsp]

Meanwhile imat-uve is BMW´s approved partner for support in validation of seat and cushion systems with focus onto scuffing (BMW standard PR 80.3). Especially the fusion of seat testing competence with the surface competence upon upholstery textiles and leather is one of imat-uve´s excellence. Next to the trial services according to stipulated specifications (incl. evaluation of measurement and video data), imat-uve offers further services such as benchmark investigations with the OCCUBOT or the determination of sitting pressure characteristics with test persons with a pressure distribution mat.
I will gladly answer any questions
CARMEN PELTERS
Phone +49 (0) 2161 6865-159
DO YOU HAVE FURTHER QUESTIONS?
FOR FURTHER DETAILS SEE LIST OF SERVICES
Here you will find all test methods, standards and test plans with which we can handle your individual orders.